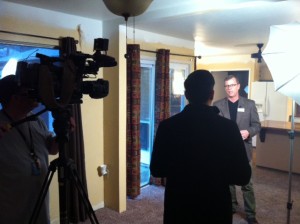 KEYE TV INTERVIEW W/Alex Boyer
As a real estate professional specializing in residential sales in the Austin and Bastrop communities I had the pleasure of doing an interview with KEYE News Reporter Alex Boyer about when should a home owner who's selling a home disclose a death to potential buyers. Texas Property code requires that sellers of a home disclose a death that occurred on property other than a death caused by: natural causes, suicide, or accident unrelated to the Property's condition. Section 5.008 of the Texas Property code is available here. So basically what the code is saying  is that if a murder or a death caused by the property condition occurs on the property, the home owner is bound by law to disclose that information to any potential buyer. Surprising the are some exceptions to this law that applies to foreclosures, bank owned homes, homes that are under the control of a trustee or rental properties. These individuals do not have to disclose murders that occurred on the property in fact they are exempt for disclosing anything.
Let me ask you this. Would you purchase a home knowing a murder occurred on the property?
I actually represented some awesome client's several months ago that were looking to purchase a nice two story home in the Del Valle area and the property owner as required by law disclosed that a murder/suicide occurred in the home.  My client's didn't want to know the details of the murder but decided to move forward with the purchase anyways.   Unfortunately the home was appraised way below the market value and the seller refused to negotiate with my client's on the sale price and the deal fell through. But the good new I found them another home in Del Valle, TX and they are some happy clients.
If you would like additional information about what you are required to disclose as a home owner or if your looking to purchase a home and want to know what should be disclosed give me a call. I would love to earn your real estate business.