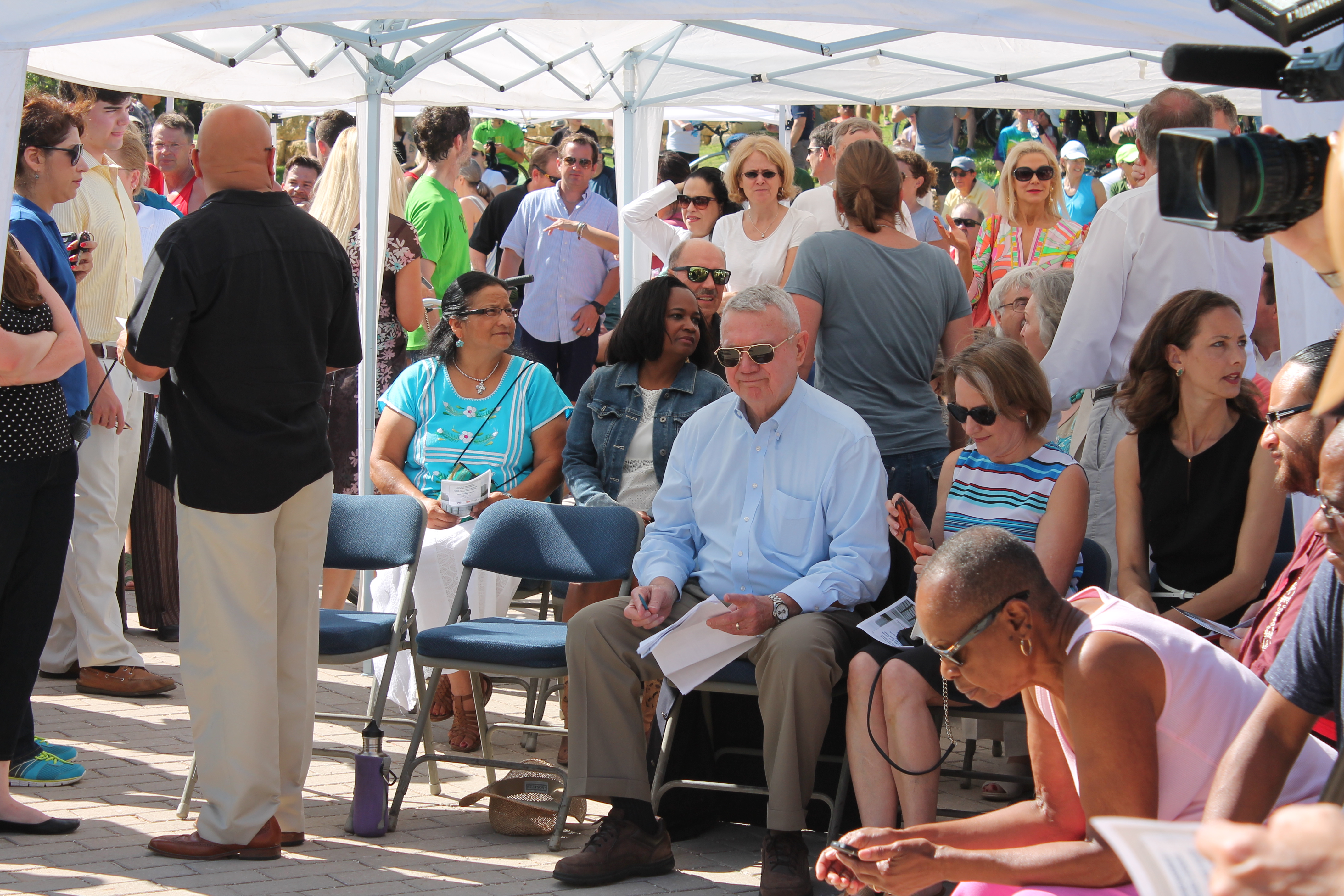 This mornings ceremonies of the Austin Boardwalk was held under the blistering heat but that certainly didn't persuade the thousands of Hike & Bike users, supporter and many other Austinites from attending this special occasion. As a frequent walker and runner of the trail I was glad to see it finally open after what seemed like years to build. But I didn't attend the ceremony for the sheer pleasure either. Needless to say I had ulterior motives.  In my infamous wisdom I attempted to capitalize on this unique opportunity to market my Austin real estate business to the thousand or so attendees by wearing my Keller Williams Realty walking billboard sign.  Unfortunately my efforts we short lived when I was approached before the opening ceremonies by a very nice and polite park ranger who informed me that I was free to stay by my David Board Properties Billboard had to GO.  I politely asked if there was a city ordinance that prohibited by billboard and at first the park ranger seemed a little puzzled but said she was told by an official that since it was a city sponsored event and unregistered advertising was not allowed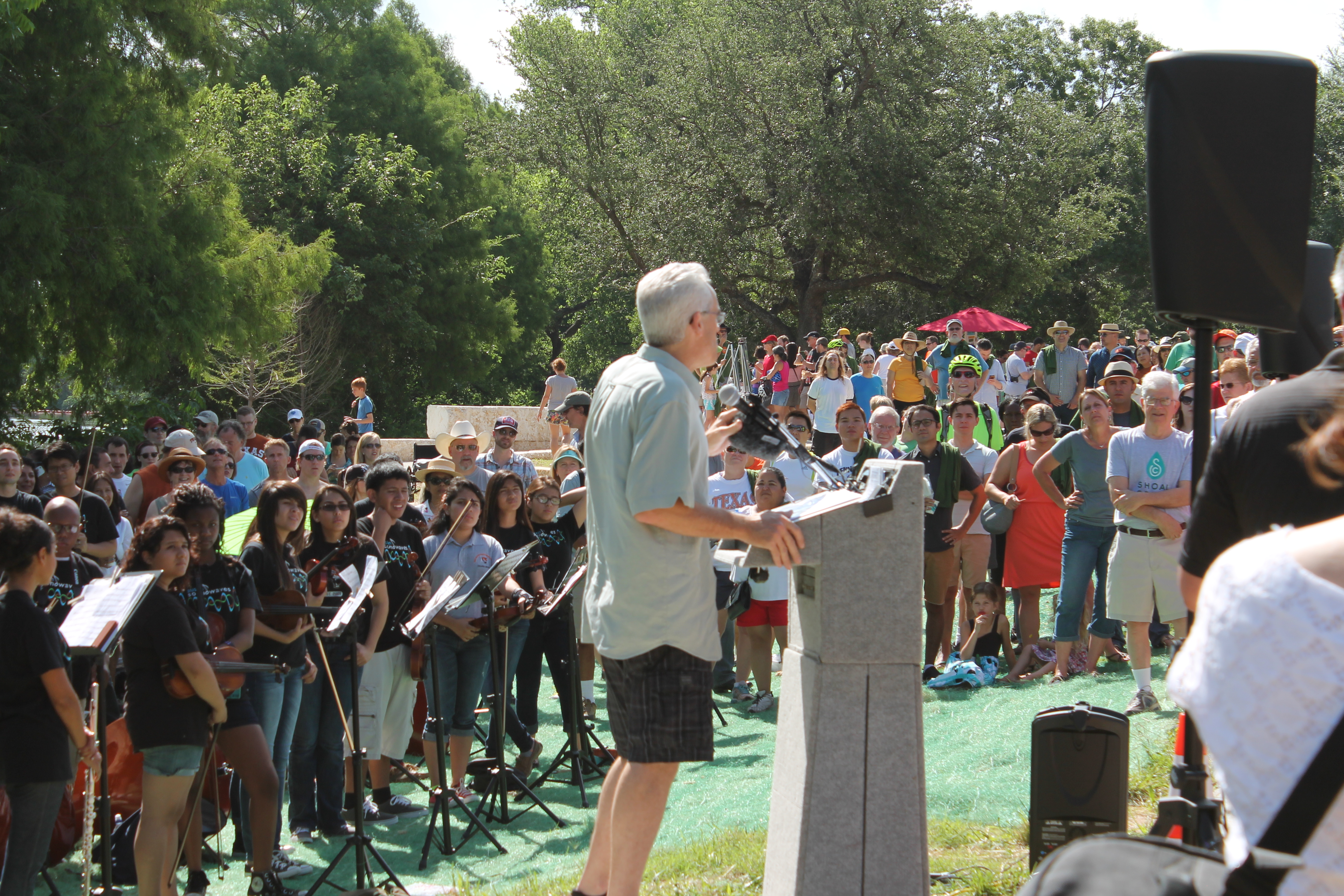 Although a little disappointed I thanked the ranger and placed my walking billboard in my car, changed into some shorts and a tank top, grabbed my awesome real estate 35mm Cannon camera and started talking pictures and video of the entire event. I even got a few pictures of the mayor and a few city council members.  There were other local vendors at the event but they were giving away free tee shirts, coffee, water and what I thought was the crowds favorite, ice cream on a stick.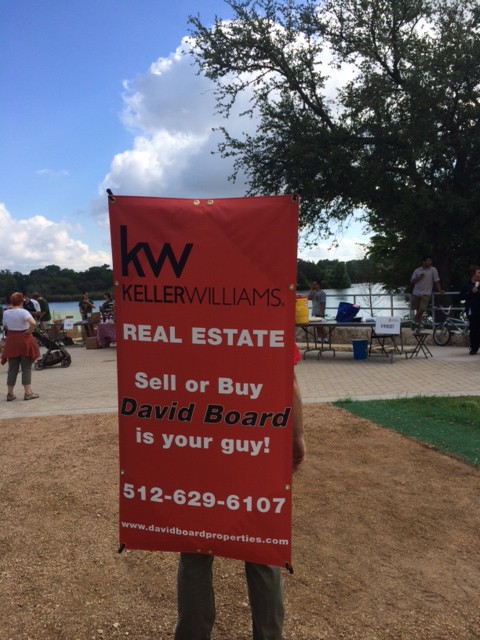 Even tho my primary intention was to promote the David Board Properties and the Austin side of my real estate business, I had a great time and I think most of the pictures reflect that Austinities did too.
The opening event took place at the Lakeshore Trailhead at the eastern end of the Boardwalk, located at 1928 South Lakeshore Boulevard (78741). Guest speakers included the Honorable Mayor Lee Leffingwell, Mayor Pro Tem; Sheryl Cole, City Council Member's Chris Riley and Mike Martinez along with many other city officials and local dignitaries.   There was a ribbon cutting ceremony,  live music by the SoundWaves, a festive march across the Boardwalk led by the Eastside Panther Drumline, and an aerial dance performance under I-35 by Blue Lapis Light  presented by The Trail Foundation and underwritten by Silicon Labs.    The Boardwalk will close a 1.3-mile gap along the southeast portion of the 10-mile Butler Trail. The Trail came to life during the 1970s thanks to a unique public-private civic effort led by the Citizen's Committee for a More Beautiful Town Lake and its Honorary Chairwoman, Lady Bird Johnson. Today, the Butler Trail remains a key part of Austin's quality of life, with 3,000 to 15,000 people using it every day of the year.